Let's get it done!! Happy Jack, Arizona is an unincorporated area situated in the Mogollon Rim Region of Coconino County in Central Arizona. Perched at an elevation of about 6700 to 7000 feet above sea level, the area is a popular for residents of nearby Phoenix who are looking to escape the desert's triple-digit heat. Summer highs in the mountains in and around Happy Jack, Arizona typically are between 70 and 95 degrees. The trails are all terrain, from high mountain to high desert to rocks. During the early history of Arizona, this area was known as Long Valley, it was the only way to get to Mogollon Rim from Winslow to Strawberry, Pine, Payson and the Phoenix area
UTV Offroad Adventures presents Lumberjack UTV Fest. You won't want to miss this weekend filled with adventure! This three-day event will take you on some of the most scenic trails Arizona has to offer in safe and organized manner. We will provide guided trails, meals, quick draw poker, corn hole tournament, raffles, and lots of fun, laughs and good times. Designed for all age groups and UTV experience. Come and see what we are all about and meet new and old friends. We will take you on a night ride and guided trail rides all while raising money for local charities
All activities will be held at the Happy Jack Lodge and RV Park
One of the rides will take us to Apache Maid Cabin. This rustic forest cabin is located at the eastern base of Apache Maid Mountain, just two hours north of Phoenix and near the popular red rock canyons. WE will also stop and see the Apache Maid lookout tower. This tower is located on the Apache Maid mountain where the elevation is 7,300 feet.
The other ride will take you to Long Lake. The lake is in an area of open grasslands dotted with pinyon and juniper trees. It is named after a legend of a long serpent type creature that was reportedly seen by ranchers as they herd cattle near the lake.
We hope you can join us!
News: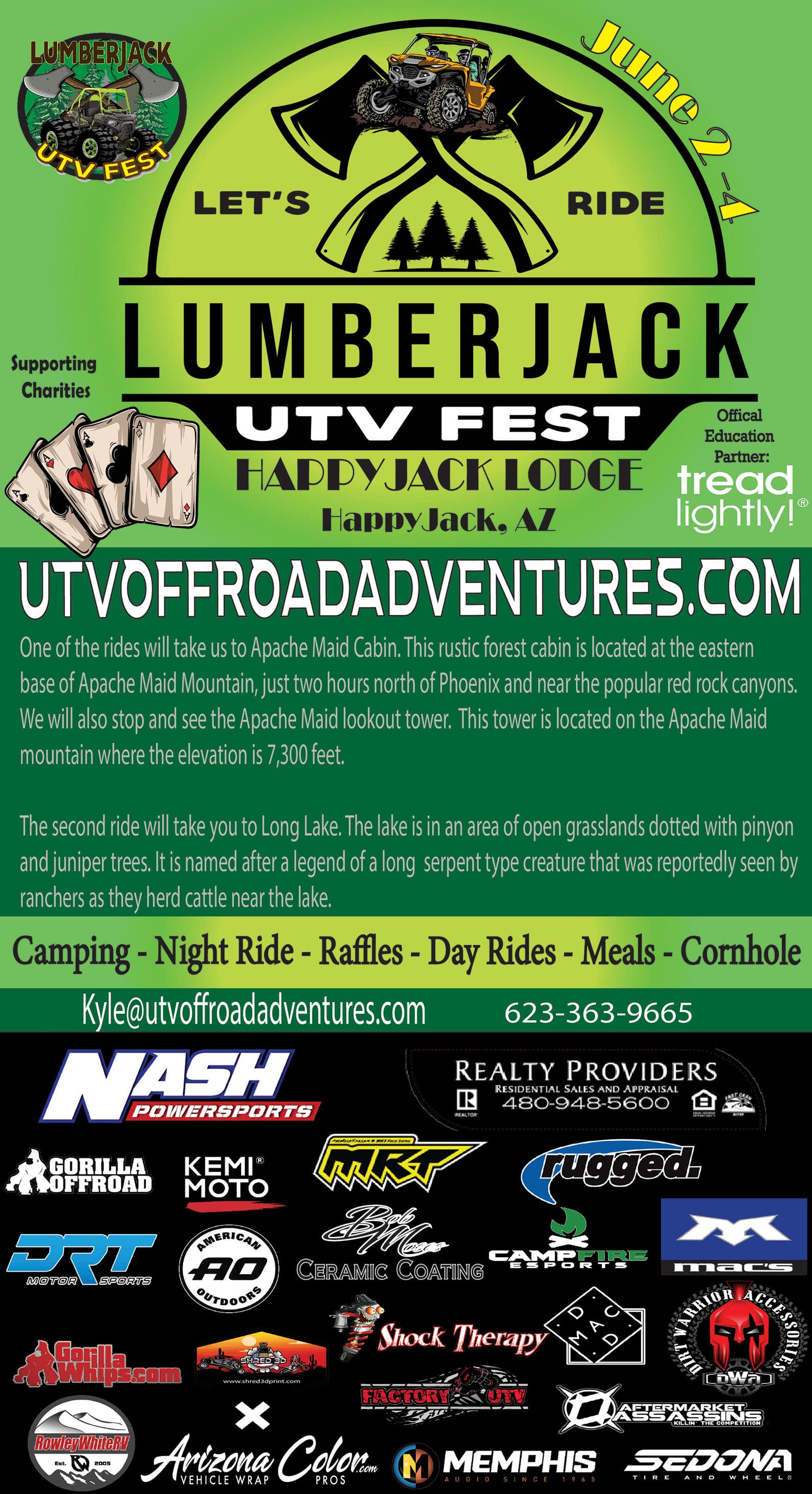 Camping:
Full Hook Ups
Dry Camping
Cabins for Rent
Must Reserve your Camping and/or Cabin
Call Happy Jack Lodge (928) 477-2805 https://www.happyjacklodge.com/
Make sure to tell them your coming to the UTV Offroad Adventures Event
2023 Schedule